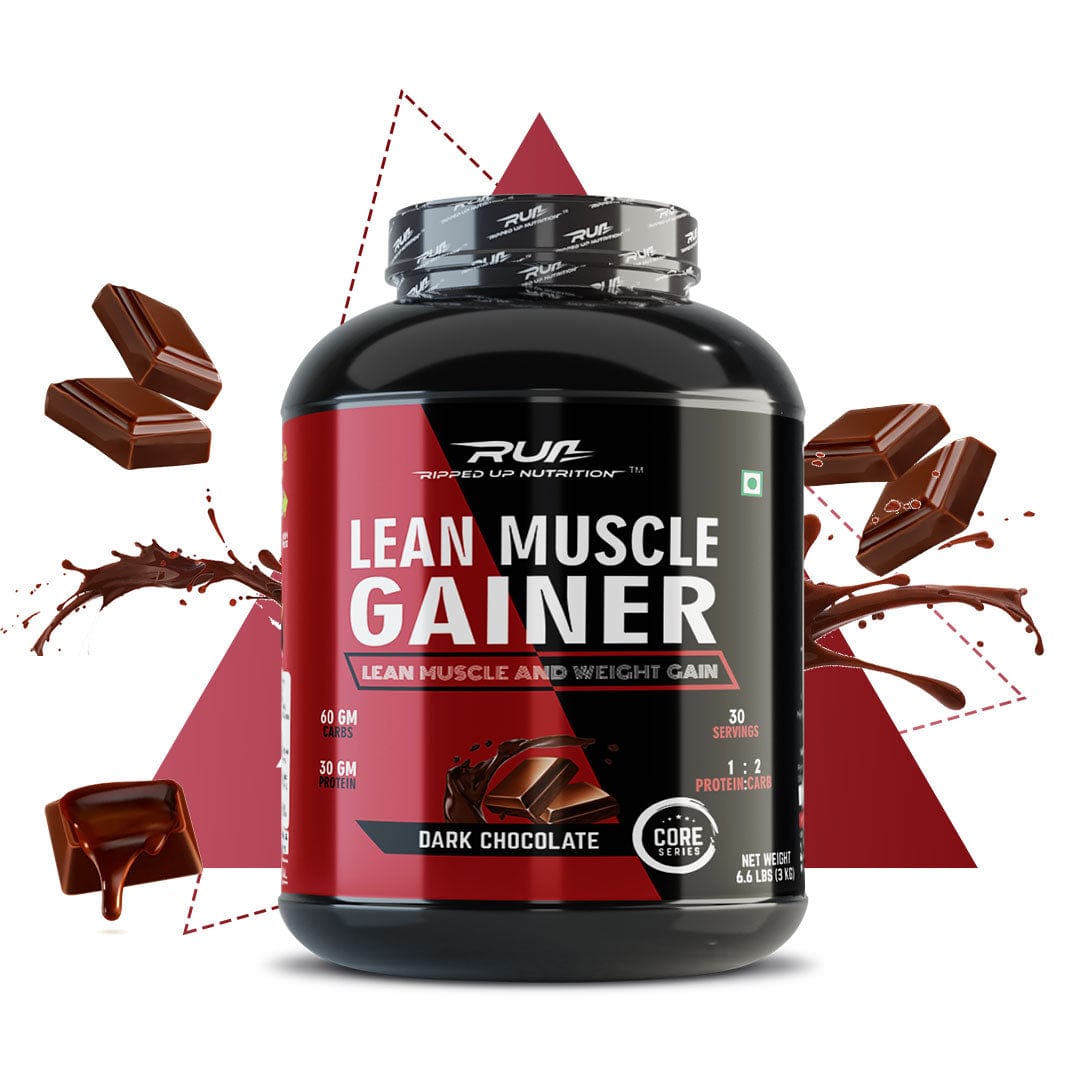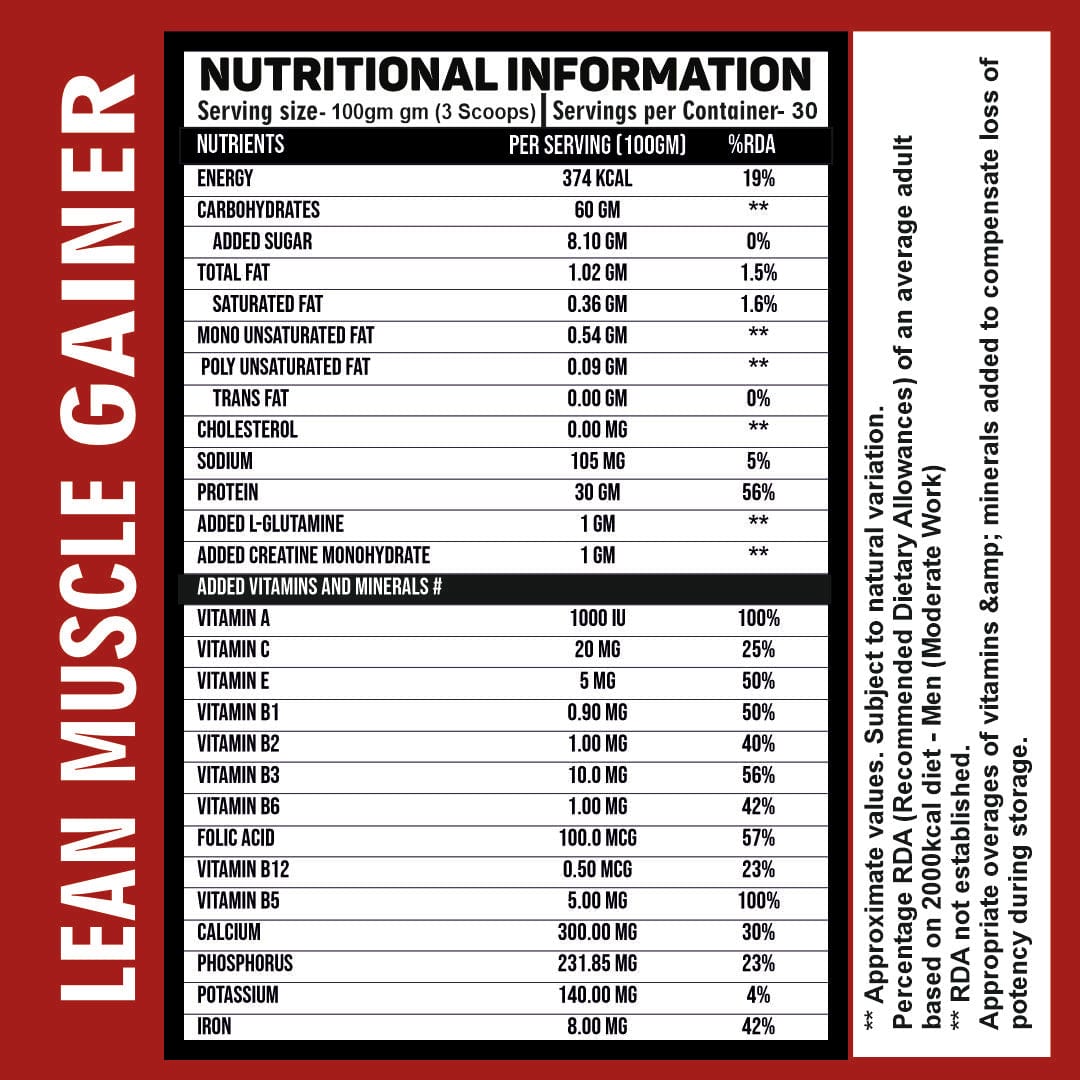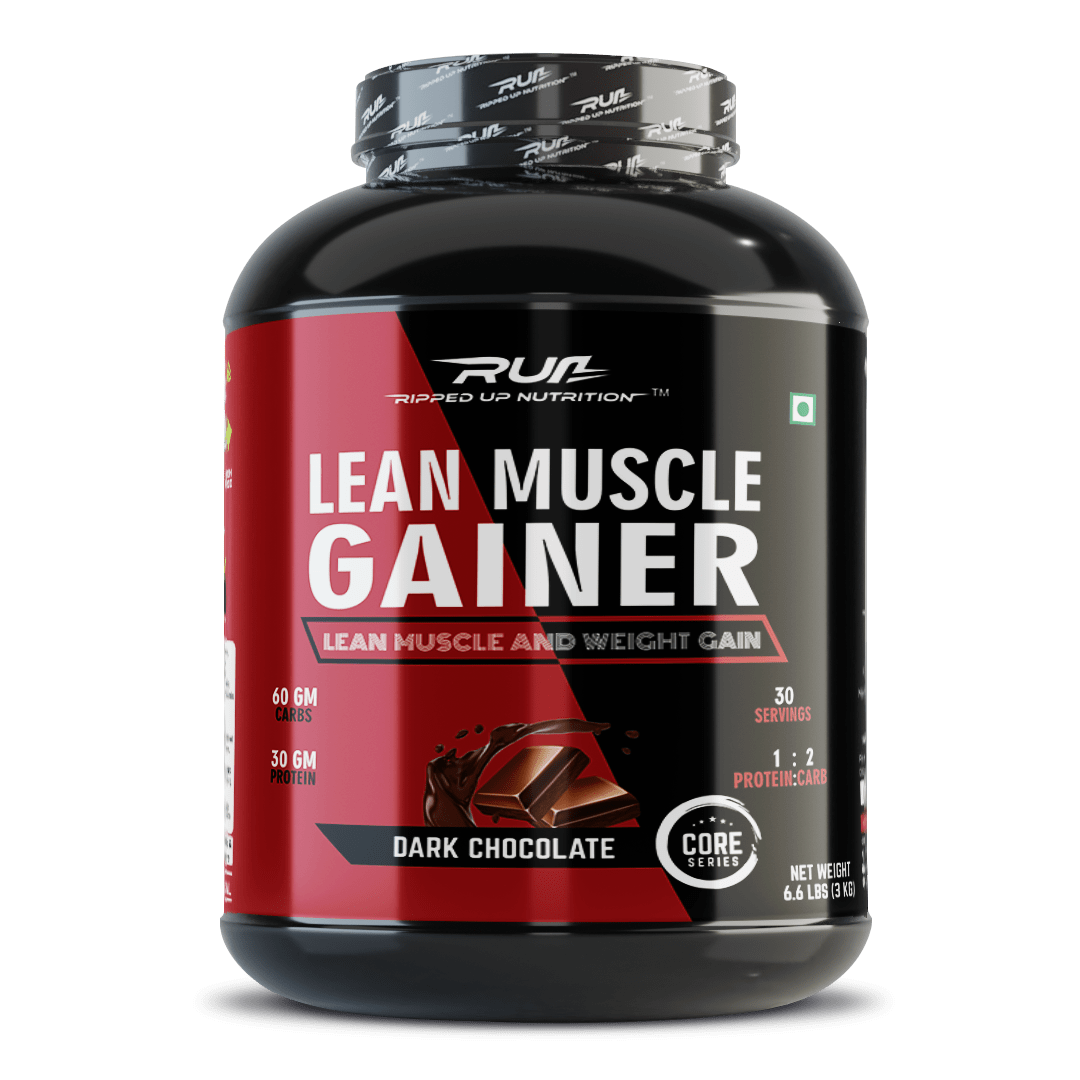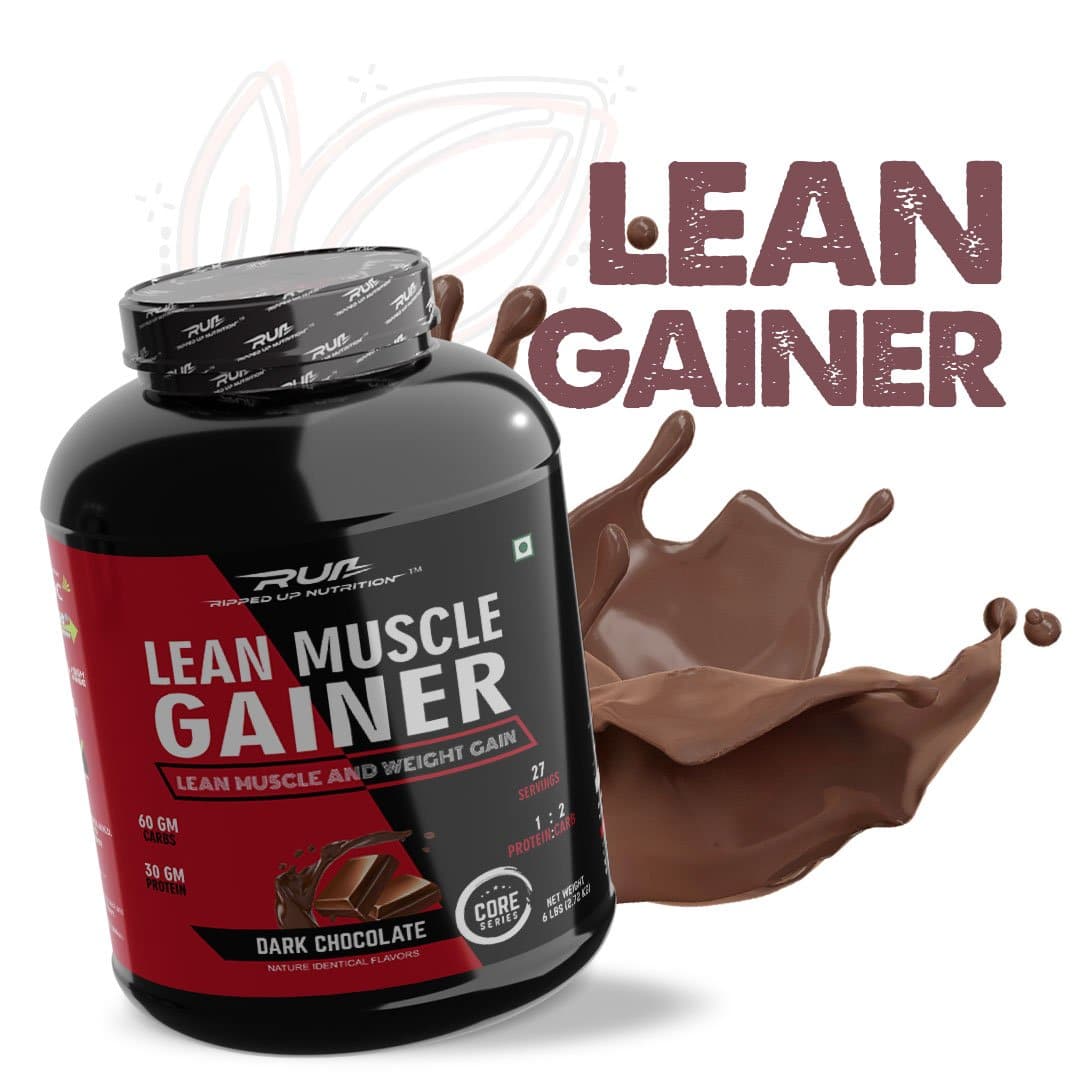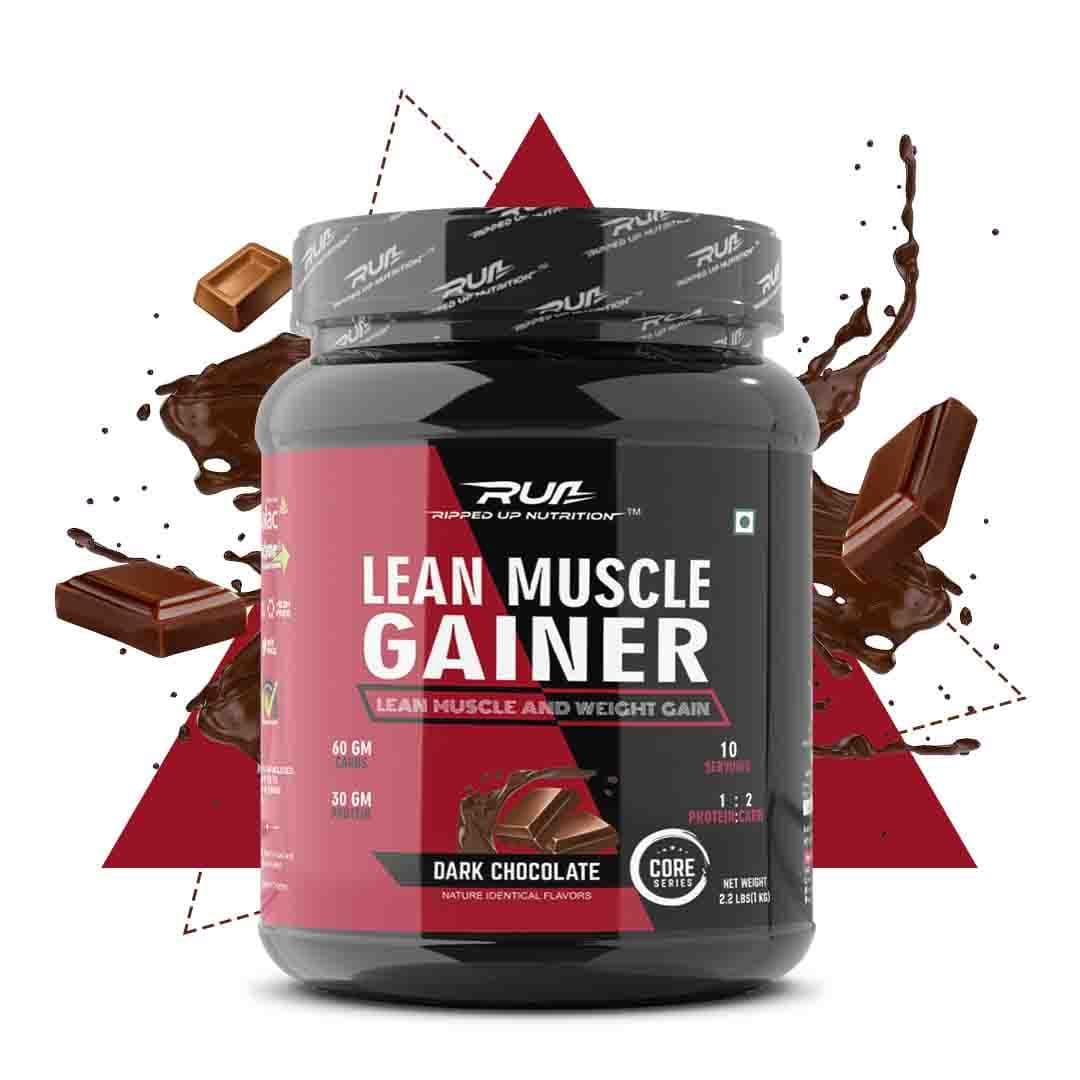 Lean Muscle Gainer-
---

Offer 1:- Free Shaker Above ₹1999/-
Offer 2:-Free Pancake Mix Above ₹5999/-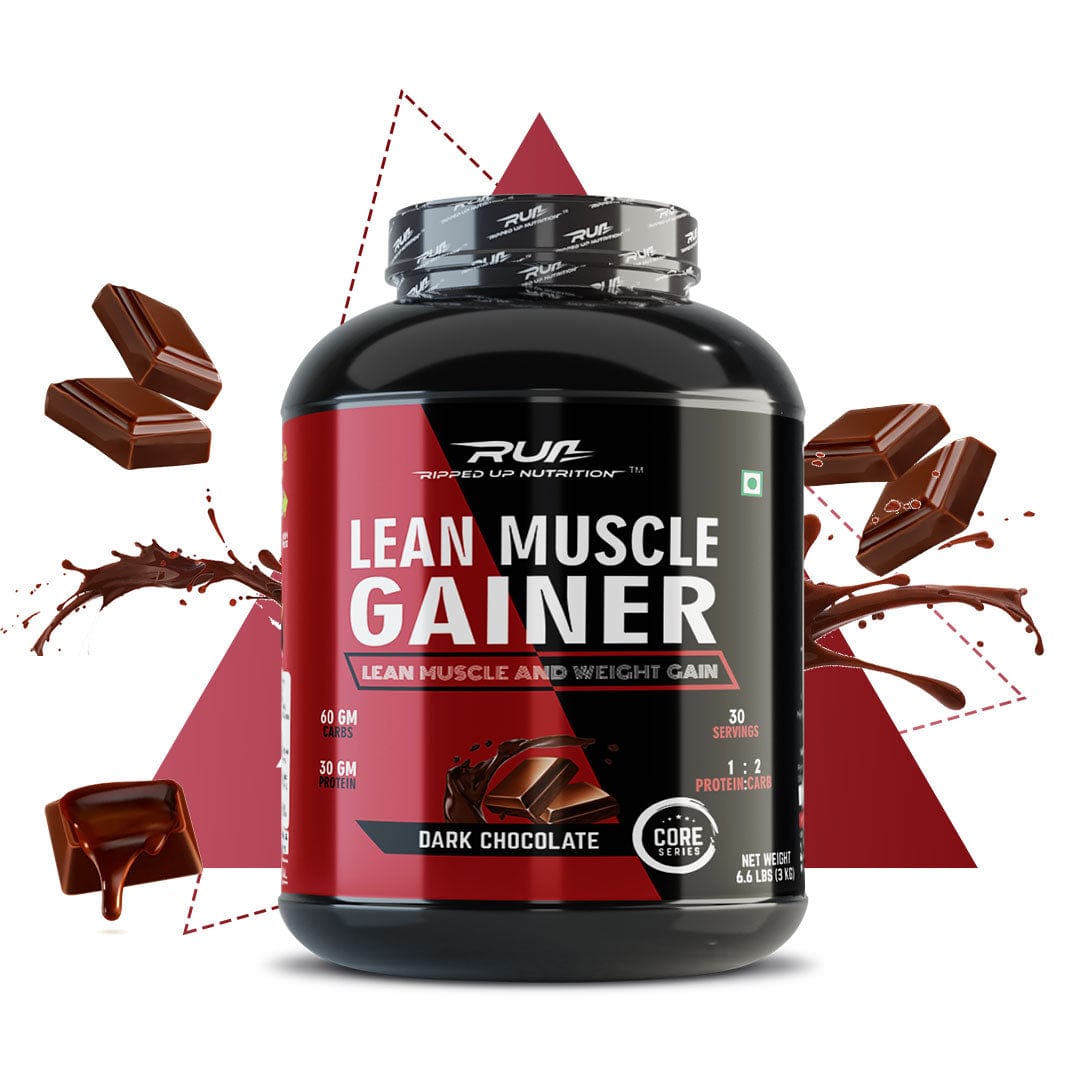 | Nutrients | Per Servings (100 gm) | %RDA |
| --- | --- | --- |
| Energy | 374 KCAL | 13.71% |
| Protein | 30 G | ** |
| Carbohydrate | 60 G | ** |
| Sugar | 8.10 G | ** |
| Total Fat | 1.02 G | ** |
| Saturated Fat | 0.36 G | ** |
| Mono Unsaturated Fat | 0.54 G | ** |
| Poly Unsaturated fat | 0.09 G | ** |
| Trans fat | 0 G | ** |
| Cholestrol | 0.00 MG | ** |
| Sodium | 105 MG | ** |
| Added L-Glutamine | 1 G | ** |
| Added Creatine Monohydrate | 1 G | ** |
Ripped Up Nutrition Lean Muscle Gainer is a high protein high-calorie supplement to support lean muscle gains. The carbs to protein ratio of 2:1 ensure both more protein per serving and sufficient energy to meet heavy duty work outs. 30g of protein per serving from a combination of Whey Protein Isolate & Whey Protein Blend ensure quick recovery post work out. Zero added sugar in the supplement and added Creatine and Glutamine makes it the best solution for lean muscle gains
Maltodextrine, Whey Protein Blend (Whey Protein Concentrate,Whey Prootein Isolate),Skimmed Milk Powder,Vitamin & Minerals Blend#,Nature Identical Flavor, Polydextrose, L-Glutamine, Creatine Monohydrate, Thickening Agent (INS 415), Anti-caking agent(INS 551),digeZyme (A Unique Proprietary Enzyme Blend Containing Amylase, Protease,Lipase,Cellulase and Lactase),Sweetner (INS 955)
| Nutrients | Per Servings (100 gm) | %RDA |
| --- | --- | --- |
| Energy | 374 KCAL | 13.71% |
| Protein | 30 G | ** |
| Carbohydrate | 60 G | ** |
| Sugar | 8.10 G | ** |
| Total Fat | 1.02 G | ** |
| Saturated Fat | 0.36 G | ** |
| Mono Unsaturated Fat | 0.54 G | ** |
| Poly Unsaturated fat | 0.09 G | ** |
| Trans fat | 0 G | ** |
| Cholestrol | 0.00 MG | ** |
| Sodium | 105 MG | ** |
| Added L-Glutamine | 1 G | ** |
| Added Creatine Monohydrate | 1 G | ** |
Ripped Up Nutrition Lean Muscle Gainer is a high protein high-calorie supplement to support lean muscle gains. The carbs to protein ratio of 2:1 ensure both more protein per serving and sufficient energy to meet heavy duty work outs. 30g of protein per serving from a combination of Whey Protein Isolate & Whey Protein Blend ensure quick recovery post work out. Zero added sugar in the supplement and added Creatine and Glutamine makes it the best solution for lean muscle gains
Maltodextrine, Whey Protein Blend (Whey Protein Concentrate,Whey Prootein Isolate),Skimmed Milk Powder,Vitamin & Minerals Blend#,Nature Identical Flavor, Polydextrose, L-Glutamine, Creatine Monohydrate, Thickening Agent (INS 415), Anti-caking agent(INS 551),digeZyme (A Unique Proprietary Enzyme Blend Containing Amylase, Protease,Lipase,Cellulase and Lactase),Sweetner (INS 955)
The information contained on RippedUpNutrition (www.rippedupnutrition.com or subdomains) is provided for informational purposes only and is not meant to substitute for the advice provided by your doctor or other healthcare professional. Information and statements regarding products, supplements, programs etc. listed on RippedUpNutrition have been evaluated by the Food Safety and Standards Authority of India (FSSAI) but are not intended to diagnose, treat, cure, or prevent any disease. Please read product packaging carefully prior to purchase and use. The results from the products will vary from person to person. No individual result should be seen as typical.
Customer can call us at 6230086790

Or they can fill the contact us form here
Our customer support at 6230086790 / 6230886790/6230700867 is available Monday to Friday: 10am-6pm.
Average answer time: 24h
Whatsapp
This product is rated 4.3 of 5.0 stars.
It has received 74 reviews.
Good Product
Product Is Good Started Using Will Give Proper Feed Back After 15 Days
Lean Muscle Gainer - Carb Protein Ratio- 2:1- Added Creatine and Glutamine for Lean Muscle Mass
Lean Muscle Gainer - Carb Protein Ratio- 2:1- Added Creatine and Glutamine for Lean Muscle Mass